History of the Colorado State Constitution
The constitutional convention for the Colorado Territory convened December 20, 1875. Then, for the next eighty-seven days, delegates met in Denver's Odd Fellows Hall, and debated many topics including: the formation of a public school system, the taxation of property, the disposition of public waters and public lands, the control of corporate bodies, and the right of suffrage. The task was completed March 14, 1876.
Modeled after the United States Constitution, Colorado's Constitution set the terms and duties of our state government officials, and outlined the manner by which a law could be introduced and passed. It established the State Supreme Court, as well as our district and county courts. Language created a program for the supervision and maintenance of our public school system.  A state tax system was developed, rules that regulate railroads and other corporations were adopted, and provisions created to amend our State's constitution.
Governor John Routt dispatched his secretary, John N. Reigart, to Washington D.C. on July 25, 1876. Reigart took with him a copy of the Colorado Constitution, as well as certified votes, ordinances and proclamations. After two previous attempts in 1865 and 1867, Colorado had finally succeeded in becoming the thirty-eighth state in the Union.
President Grant made the declaration on August 1, 1876. Since that day, this one of a kind state constitution has been the governing document for our Centennial State.
For more information on the creation of the constitution, the Proceedings of the Constitutional Convention is a great resource. This document is a journal of the debate and discussion of the entire constitutional convention. (Note: an index of the Proceedings begins on page 732).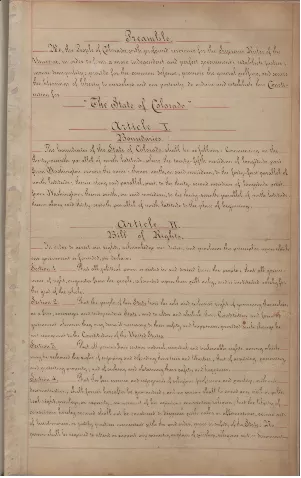 About the Document

Authenticated Colorado State Constitution   

The Colorado Constitution is a 40-page manuscript written on machine-made ledger paper. At some point the minutes of the State Constitutional Convention, held in December 1875, were bound in with the Constitution. This 12-page document is written on smaller sized ledger paper. There is evidence that these documents have been rebound several times in their 100 plus years.

The original version was handwritten by Fred J. Stanton, the engrossing and enrolling clerk for the constitutional convention. A copy was later penned by the assistant engrossing and enrolling clerk, W.A. Salisbury. 

The Colorado State Archives is the legal custodian of the Colorado State Constitution. Currently, it is on loan and available for public viewing at History Colorado in Denver, CO.